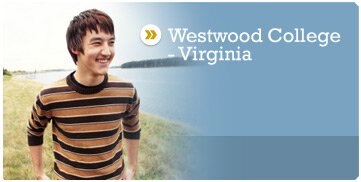 Westwood College in Virginia
Come to Westwood College in Virginia and earn your degree or receive certified training at either one of the two Virginia campuses, both of which are accredited by the Accrediting Commission of Career Schools and Colleges of Technology (ACCSCT). Located just outside of the bustling city of Washington, DC, Westwood College in Virginia has degree and training programs in four schools—design, business, technology and justice. Westwood prepares students for a multitude of challenging careers and prepares them quickly—it's possible to earn your associate degree in as little as 20 months and your bachelor's degree in just three years!
This website has three goals:
To provide students useful information about each Westwood Virginia college campus and the available degree and training programs at each, including Virginia criminal justice programs, construction management programs and many more.
To provide students with information about what Westwood College has to offer and the many amenities of living and attending college in Virginia, particularly in the Washington, DC metropolitan area. This information can be very helpful to students interested in attending Northern Virginia colleges.
Most importantly, to prepare Virginia college students quickly for rewarding careers in challenging industries.
Learn more on how to earn your degree quickly from a Westwood College in Virginia. Complete this form or call toll-free 877.852.6608 today.